Steven Doermer, DPT, CSCS,
Carol Conibear, Office Manager
Steven Doermer, DPT, CSCS,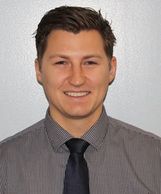 obtained his Doctorate of Physical Therapy degree in 2013 from Daemen College and currently works at Niagara Physical Therapy as an outpatient clinician. He enjoys the diversity of working with people of all ages and skill levels. Steve has also been involved in Division II athletics both as a player and a coach over the past ten years, with a focus on the strength training and conditioning of athletes. More recently, Steve became a Certified Strength and Conditioning Specialist through the NSCA and now uses his unique and diverse experiences to promote health and wellness in the community.